LEMON MYRTLE EXPERIENCE: Morning Teas or TAKE AWAY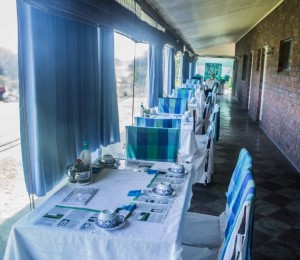 Our special offer provides "Lemon Myrtle Experience" consisting of: Lemon Myrtle Tea,Lemon Myrtle Savory Dip with Rice Crackers,  Lemon Myrtle Cheesecake with fresh cream, followed by a serving of Lemon Myrtle Ice Cream.
Visit our Lemon Myrtle Plantation in the beautiful Nambucca Valley — 22 km turning off at Macksville. You can phone 02 6564 2150 for directions.
We provide the Lemon Myrtle Experience  morning tea, followed by an educational talk on the growing and processing of Lemon Myrtle, and the extraction of our Lemon Myrtle Oil developing it to product stage.
Enjoy trying samples of our Lemon Myrtle Rainforest personal products, then visit our interesting Gallery for the purchase of our Lemon Myrtle products,
Top photo shows the area used  to seat up to 50 visitors. Smaller groups are usually seated outside (weather permitting) in the canopy area.
Bookings Essential. Please phone 02 6564 2150 to book, or use the form below to request a booking for your  morning tea.   Cost currently $10
ALTERNATIVE OPTION: VISIT LEMON MYRTLE GALLERY FOR PRODUCTS AND WE NOW DO TAKE AWAY:
LEMON MYRTLE ICE CREAMS: $5  LEMON MYRTLE CHEESE CAKES $6 LEMON MYRTLE  ICED COFFEE $6